Description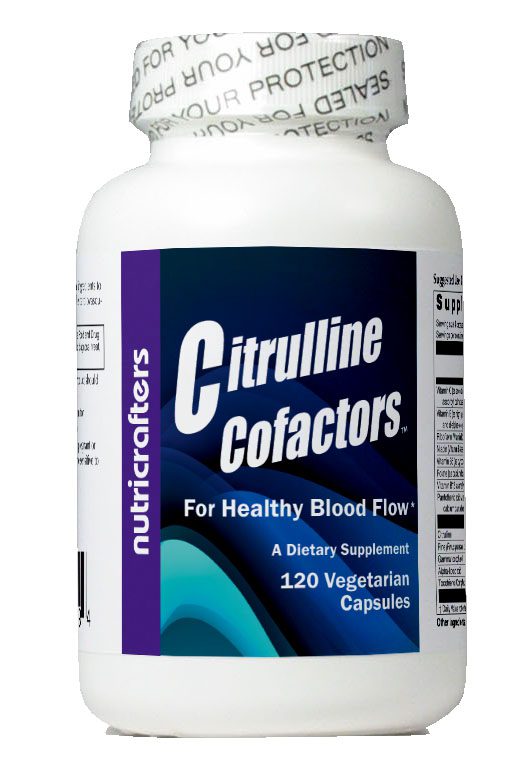 Citrulline Cofactors™ provides natural ingredients to support the structure and function of the cardiovascular system via the production of nitric oxide. Healthy blood flow is critical to support a strong body and that's what a good supply of nitric oxide can do for you.
Citrulline is the most convenient and effective natural nitric oxide precursor available. Citrulline increases circulating arginine more efficiently than taking arginine which allows for an effective dosage in just a few capsules.
Most of the arginine consumed gets converted to creatine which distracts from its effectiveness in enhancing blood flow from nitric oxide production. Arginine is great, but requires such a large dose that it is usually supplied in a drink mix to avoid taking a handful of capsules.
For a delicious drink mix try Arginine HGE with citrulline.
Cofactors are the nutrients required to assure the maximum conversion of citrulline to supply nitric oxide when and where needed. A lack of any one of the 13 cofactors can interfere with nitric oxide production.
Order Citrulline Cofactors today and find out what this scientifically formulated solution can do for you.
Serving size 4 capsules
Servings per container 30
Each serving of Citrulline Cofactors supplies:
180 mg Vitamin C (as ascorbic acid and ascorbyl palmitate)
30 IU Vitamin E (as high gamma mixed tocopherols and d-alpha-tocopheryl acid succinate)
850 mcg Riboflavin (Vitamin B2)
20 mg Niacin (Vitamin B3 as niacinamide)
1 mg Vitamin B6 (as pyridoxal 5-phosphate)
200 mcg Folate (as calcium folinate)
60 mcg Vitamin B12 (as methylcobalamin)
50 mg Pantothenic acid (Vitamin B5 as calcium pantothenate)
1500 mg Citrulline
100 mg Pine bark extract (Pinus pinaster)
60 mg Gamma tocopherol
25 mg Alpha-lipoic acid
5 mg Tocotrienol Complex