Description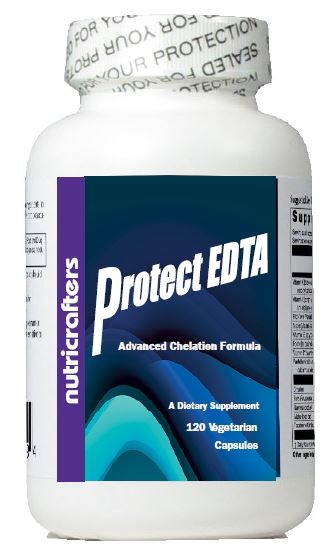 Support your Heart Today with Protect EDTA
Protect EDTA™ contains multiple ingredients found to chelate and detoxify environmental contaminants. Protect EDTA contains the most researched form of EDTA combined with cysteine enriched garlic, malic acid, and parsley.
Addressing environmental pollution is an important part of any supplement program. Due mainly to the use of leaded gasoline for over 60 years, lead has become unnaturally distributed through our ecosystem. While greatly reduced, our exposure to this dangerous compound continues. EDTA has been used for over 50 years as a safe and effective chelator of lead.
We are exposed to many chemicals as part of modern day living. From the materials that construct our kitchenware to the chemicals that are used to build our homes. The good news is components of healthy food can help protect us from this modern day environment. Malic acid as found in fruits and berries and the cysteine found in garlic are two such items that can help eliminate and detoxify harmful chemicals.
Four vegetarian capsules provide the following amounts:
1,000 mg EDTA (calcium disodium ethylenediaminetetraacetic acid)
900 mg Malic Acid
200 mg Cysteine (as L-Cysteine and N-Acetyl-L-Cysteine)
200 mg Garlic (Allium sativum) bulb powder, deodorized
100 mg Parsley (Petroselinum sativum) leaf powder
Order Protect EDTA – 120 Capsules
Caution: Not for use by children or by pregnant or lactating women. Not for use by anyone sensitive to any of the ingredients.