Description
Easy MCT™ powder mix combines high energy coconut derived MCT oil with the unique emulsifying action of tapioca to provide an easy to use water dispersible MCT powder.
Mix in water to create a delicious coconut milk, add to coffee as a high energy creamer, or spoon over
dry cereal and add hot or cold water instead of milk.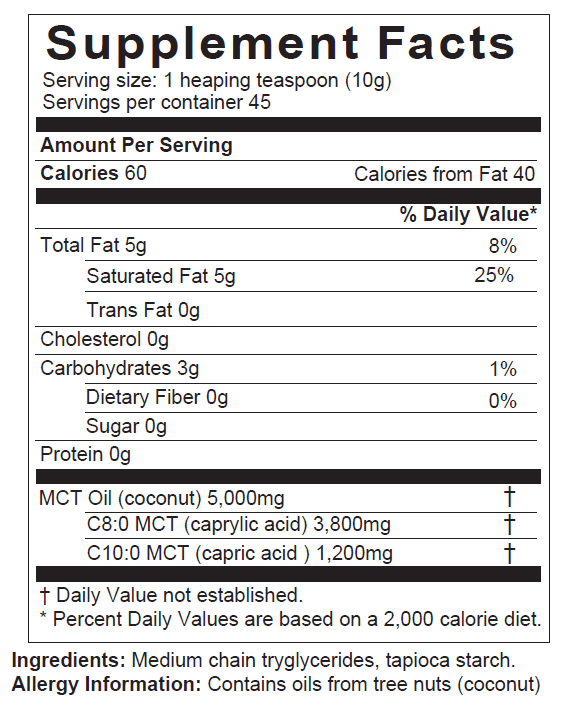 • Support energy and vitality*
• Help satisfy appetite*
• Easy to mix and tastes great*
Medium Chain Triglycerides (MCT's) have many beneficial health promoting properties. The most interesting is that the body will not store MCT like most fats and oils. When MCT oil is consumed, it is rapidly converted to energy. Another exciting fact about MCT oil is that it provides cellular energy very quickly – without relying on glucose.
Easy MCT supports the production of ketones which can be used by the brain as an alternative energy source. The brain's principal source of energy is glucose. However, when glucose levels are low, this alternative source of rapid energy can be utilized. As MCT's produce ketones and do not get stored as body fat, weight management and rapid energy production are additional benefits.
Suggested Use: Stir into drinks or spoon over foods to add a delicious creamy taste and to supplement your diet with high energy MCT's. Start with 1 teaspoon, preferably with meals. Slowly increase the amount over several days as your body adjusts to burning fat for energy. Taking too much, especially on an empty stomach, can result in stomachache or diarrhea. Add to coffee as desired to enhance taste and prolong the energy boost.
Stir 1-2 heaping spoonfuls into a glass of hot or cold water to create delicious coconut milk.
Spoon over cereal and add hot or cold water.
Mixes fast and easily.